Besana News
US Dietary Guidelines Recommend Diet Rich In Vegetables, Fruits And Nut And Less Meat
By Saranya on February 24 2015 11:43 AM
Low-meat diet rich in fruits, vegetables, grains, nuts, legumes and seeds is recommended by The 2015 Dietary Guidelines Advisory Committee. The Scientific Report of the Committee is submitted to the Secretaries of the U.S. Department of Health and Human Services and the U.S. Department of Agriculture in February 2015.
The guidelines recommend limitation of sugar intake to 200 calories per day as it is much of a current concern, than cholesterol, says the report. Fruits, vegetables, grains, nuts, legumes and seeds are recommended in diet as they are more health promoting and are associated with less environmental impacts than high meat diet. It is to be noted that it is the first time that the committee has quoted environmental impacts in the guidelines.
It is not necessary to eliminate any of the food groups completely, say the guidelines, but encourages taking in quite a lot of vegetables, fruits and kind. No restrictions in the consumption of egg are established unlike last time it recommended cholesterol limitation by cutting down egg intake. As there are no reliable evidences to back up restriction of cholesterol in the diet, the committee hasn't set any limitations to fat intake but suggests eating less saturated fat.
For the first time ever, the committee recommends moderate coffee drinking as there are evidences on healthy impacts of taking three to five cups of coffee a day in diabetes and heart disease. Pregnant women are recommended to limit their coffee intake to two cups a day. The guidelines recommend moderation in consumption of alcohol. The committee encourages public opinion on the dietary guidelines to provide written comments through midnight of April 8, 2015, and an opportunity to attend a public meeting to hear or provide oral comments on March 24, 2015. The registration for the meeting would be opened around March 9, 2015, according to health.gov
Maureen Ternus, M.S., R.D.
Executive Director
International Tree Nut Council
Nutrition Research & Education Foundation
2413 Anza Avenue
Davis, CA 95616
Ph: 530-297-5895
Web: nuthealth.org
We're now on social media! Follow us on Facebook, Twitter and Pinterest
January 2015 Issue
Eat Nuts — They Do a Heart Good
By Sherry Coleman Collins, MS, RDN, LD
Today's Dietitian
Vol. 17 No. 1 P. 12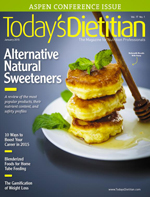 The good news about nuts and the role they play in enhancing heart health just got better with the recent release of a study on nut consumption and mortality in the New England Journal of Medicine, which showed that participants who ate the most nuts experienced a reduced risk of death due to all causes.1
Just a few decades ago nutrition guidelines for those with cardiovascular disease risk typically included a reduced-fat diet, and nuts were considered off limits. However, as researchers and health care professionals learned more about the role of good fats in cardiovascular health, the phobia about fat—and nuts—has waned. Yet many consumers still are confused and unfortunately believe that, although nuts are healthful, they're too high in fat and calories to fit into their daily diet.
In the New England Journal of Medicine study, researchers tracked 76,464 female and 42,498 male subjects. Those who ate 1 oz of nuts per day, including peanuts and tree nuts, not only had a lower mortality risk than those who ate nuts less than once per week, they also were leaner. They had a smaller waist circumference and decreased obesity risk.1
While nuts contain approximately 13 to 18 g of fat and 160 to 200 kcal per 1-oz serving, the fat in most nuts, such as almonds, hazelnuts, peanuts, pecans, some pine nuts, pistachios, and walnuts, primarily is monounsaturated and polyunsaturated. Moreover, nuts provide 1 to 7 g of protein and 1 to 3 g of dietary fiber per ounce. They're a delicious way for people to consume heart-healthy nutrients, such as unsaturated fats, fiber, vitamin E, potassium, L-arginine, phytosterols, and resveratrol.
Most nuts have an FDA-approved health claim that states, "Scientific evidence suggests but does not prove that eating 1.5 ounces per day of most nuts as part of a diet low in saturated fat and cholesterol may reduce the risk of heart disease."2 Only almonds, hazelnuts, peanuts, pecans, some pine nuts, pistachio nuts, and walnuts feature the approved health claim, since these nuts all provide no more than 4 g of saturated fat per 50-g sample—which is a little more than 1.5 oz,2 or in most cases about one handful of nuts each day. Macadamia nuts and cashews are too high in saturated fat to qualify for the health claim, with 6 g and 4.5 g per 50-g serving, respectively. The 2010 Dietary Guidelines for Americans recommend nut consumption as part of a healthful diet.3 Because nuts are a nutrient-rich, cardioprotective food, RDs should help clients incorporate nuts into their diet.
What the Research Shows
Since the 1990s, starting with the Adventist Health Study, research on nuts and heart health has yielded positive results, showing a reduced heart disease risk and lower serum lipids in those who consume them.4,5 In the earliest study, among 31,208 subjects, those who ate nuts more than four times per week suffered fewer fatal coronary heart disease events.6 (Serving size wasn't specified, since results were assessed using a food frequency questionnaire.) Four large epidemiologic studies, including the Adventist Health Study, Iowa Women's Health Study, Nurse's Health Study, and Physician's Health Study, have measured the impact of nut consumption on cardiovascular health, showing an associated decreased heart disease risk among nut eaters.7 Researchers saw the greatest reduction in each of these studies among participants who ate more than five 1-oz servings of nuts, including peanuts and tree nuts, per week.7 (The Iowa Women's and Adventist Health Studies assessed only frequency, not quantity of nuts consumed.)
Researchers believe there are many reasons why nuts may confer cardioprotection. Studies support the cholesterol-lowering effect of eating nuts regularly, which likely is associated with their heart-protective effects.5 Other studies have measured inflammatory markers and oxidation and found that lower levels of these clinical predictors of heart disease risk also were linked with increased nut consumption.5,8 It's hypothesized that the fiber and other biologically active nutrients in nuts, possibly phytonutrients or antioxidants, may contribute to the significant reduction of various cardiovascular risk factors, such as high cholesterol and increased inflammation and oxidation.8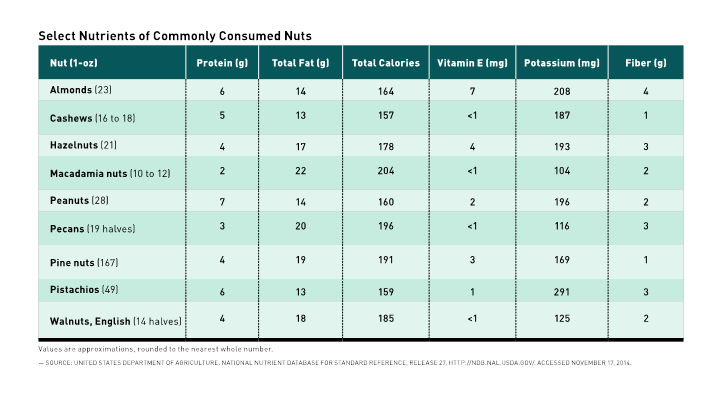 More recent research has examined the role nuts play in weight management and blood sugar control—each of which are independent risk factors for heart disease. Rick Mattes, MPH, PhD, RDN, distinguished professor of nutrition science in the department of nutrition science at Purdue University, says, "Studies have shown that nut consumption can improve lipid profiles, moderate swings in blood sugar, and may help to moderate weight." He says most nuts, including peanuts and tree nuts, have similar nutritional profiles and have been shown to have comparable impacts on heart health. Mattes' research indicates that eating nuts frequently doesn't lead to increased body weight. He and his colleagues propose this is due to compensatory behavior—reducing calories during other meals and snacks to balance eating higher-calorie nuts—satiety factor, and the likelihood that not all calories eaten via nuts are absorbed.9
In addition, questions about the best way to consume nuts for optimal health remain, Mattes says. For example, it's unknown whether nuts are most effective when eaten as a snack vs with a meal. And researchers are unsure about what the best portion size is and the form in which to eat nuts (eg, nut butter vs whole nut) to elicit the most positive outcomes.
Bottom Line
Even with these outstanding questions, the bottom line is that the research demonstrates the positive impact of nut consumption on heart health. Nuts are a delicious and nutritious food that clients and patients should incorporate frequently into their diet. Research suggests and guidelines recommend a portion size of 1.5 oz, approximately one palmful or 1/4 cup of most nuts, eaten more than five times per week for optimal health benefits. Many nuts and nut products are included in the American Heart Association's Heart Check program, which can be an easy way to assist clients in making choices when shopping for heart-healthy nuts.
"I advise consumers to eat the nuts they enjoy most and can easily incorporate into meals and snacks since that improves the chances of getting them to eat them regularly," says Robyn Flipse, MS, MA, RDN, a nutrition communications specialist in New York City. Likewise, Mattes says that since most nuts have similar health benefits it's important to match the recommendations to the individual's preference to maintain long-term behavior change. Flipse provides clients with guidelines for portion control to prevent overeating. She recommends using a portion-control container, placing a certain number of nuts into snack bags, or using a 1/4-cup scoop to serve themselves from a larger container.
"Think of nuts as a fabulous accessory when creating meals in your kitchen or when dining out," says Carolyn O'Neil, MS, RD, author of The Slim Down South Cookbook. She suggests adding nuts to salads, cooked vegetables, pasta dishes, and even soups and stews to add crunch and flavor. "As with any fashion accessory, use just enough to liven up a dish, not weigh it down," O'Neil says.
Nuts are versatile and familiar ingredients in culinary traditions from the United States to South and Central America to Asia and India. They're also part of the Mediterranean diet, known for being a heart-healthy way of eating. Moreover, nuts are a feature in the DASH diet, shown to reduce hypertension. As with all nutrition behavior change, it's important for dietitians to be culturally sensitive and to consider their clients' cooking skills and budget constraints as well as product availability. Fortunately, nuts come in many different flavors, textures, and price points, and there are options that even the pickiest clients will go nuts over.
— Sherry Coleman Collins, MS, RDN, LD, is president of Southern Fried Nutrition Services in Atlanta, specializing in food allergies and sensitivities, digestive disorders, and nutrition communications.
References
1. Bao Y, Han J, Hu FB, et al. Association of nut consumption with total and cause-specific mortality. N Engl J Med. 2013;369(21):2000-2011.
2. Summary of qualified health claims subject to enforcement discretion: Nuts & heart disease. US Food and Drug Administration website. http://www.fda.gov/Food/IngredientsPackagingLabeling/LabelingNutrition/ucm073992.htm#nuts. Accessed November 9, 2014.
3. US Department of Agriculture, US Department of Health and Human Services. Dietary Guidelines for Americans, 2010. 7th ed. Washington, DC: US Government Printing Office; 2010.
4. Kelly JH Jr, Sabaté J. Nuts and coronary heart disease: an epidemiological perspective. Brit J Nutr. 2006;96(suppl 2):S61-S67.
5. Sabaté J, Ros E, Salas-Salvadó J. Nuts: Nutrition and health outcomes. Preface. Brit J Nutr. 2006;96(Suppl 2):S1-S2.
6. Fraser GE, Sabaté J, Beeson WL, Strahan TM. A possible protective effect of nut consumption on risk of coronary heart disease. The Adventist Health Study. Arch Intern Med. 1992;152(7):1416-1424.
7. Sabaté J, Ang Y. Nuts and health outcomes: new epidemiologic evidence. Am J Clin Nutr. 2009;89(5):1643S-1648S.
8. Kris-Etherton PM, Hu FB, Ros E, Sabaté J. The role of tree nuts and peanuts in the prevention of coronary heart disease: multiple potential mechanisms. J Nutr. 2008;138(9):1746S-1751S.
9. Mattes R, Kris-Etherton P, Foster G. Impact of peanuts and tree nuts on body weight and healthy weight loss in adults. J Nutr. 2008;138(9):1741S-1745S.
Additional Resources
• International Tree Nut Council Nutrition Research & Education Foundation (www.nuthealth.org)
• National Peanut Board (www.nationalpeanutboard.org)
Studies show that regular consumption of nuts is inversely related to death due to cancer
On the occasion of the celebration of the World Day Against Cancer on the 4th of February, the INC (International Nut and Dried Fruit Council) reports that the regular consumption of nuts is associated with a reduced mortality risk, according to a recent study run by Harvard University.


Today, cancer is one of the leading causes of death worldwide, accounting for 8.2 million deaths per year .
Barcelona, 4th February 2015.- Nut consumption has a lot more to do in preventing cancer than we normally think. Today, cancer causes about 8.2 million deaths per year, and is expected to raise this number to 13 million per year by 2034. Also, the current figure of 14 million of annual cancer cases detected in 2012 is expected to grow into 22 million within the next two decades.
Given the forecast and coinciding with the World Day against Cancer, celebrated every year on February 4th, the International Nut & Dried Fruit Council (INC) wants to share some facts that can help us live a healthier life and may help prevent this disease.
According to a recent study run by Harvard University, which analyzed over 100.000 people along 30 years, nut consumption was inversely associated with total mortality by over 20% with disregard of the cause, and had an inverse relation with some of the most common causes of death, such as cardiovascular disease and cancer .
This study, the largest ever conducted investigating the effect of nuts intake in mortality, concluded that participants who ate a daily handful of nuts reduced the mortality due to cancer by 11%, compared to those who didn't consume any nuts. Dr. Ying Bao concluded that "nut consumption was inversely associated with mortality, independently of other risk factors".
In another study also ran by Dr. Bao and her colleagues, called "Nut consumption and risk of pancreatic cancer in women" , it was revealed that frequent nut consumption is inversely associated with risk of pancreatic cancer in women, independent of other potential risk factors for pancreatic cancer including age, obesity, physical activity, smoking or diabetes.
Besides nuts, dried fruits are also indicated for cancer prevention, as they are as healthy as their fresh equivalent and high in polyphenols, which are strong antioxidants that may protect DNA against damage, decrease inflammation and prevent cancer .
Properties and Benefits
A number of scientific studies have demonstrated the health benefits of nuts and dried fruits. All these benefits are attributed to the multiple components that these products have, such as vitamin E, folic acid, magnesium, arginine, plant sterols and phytochemical compounds. Furthermore, they have a low content of saturated fatty acids, among others.
About the INC
The International Nut & Dried Fruit Council (INC) groups nearly 700 companies of the nut and dried fruit sector from over 70 countries. INC is the international organization of reference as regards nuts and dried fruits, health, nutrition, food safety, statistics, international standards and regulations.
References
GLOBOCAN 2012: Estimated Cancer Incidence, Mortality and Prevalence Worldwide in 2012. International Agency for Research on Cancer

Association of Nut Consumption with Total and Cause-Specific Mortality. N Engl J Med 2013;369:2001-11. Ying Bao, M.D., Sc.D., Jiali Han, Ph.D., Frank B. Hu, M.D., Ph.D., Edward L. Giovannucci, M.D., Sc.D., Meir J. Stampfer, M.D., Dr.P.H., Walter C. Willett, M.D., Dr.P.H., and Charles S. Fuchs, M.D., M.P.H.

Nut consumption and risk of pancreatic cancer in women. Br J Cancer. 2013 Nov 26;109(11):2911-6. Bao Y, Hu FB, Giovannucci EL, Wolpin BM, Stampfer MJ, Willett WC, Fuchs CS.

Polyphenols as cancer chemopreventive agents. Stoner GD, Mukhtar H. Department of Preventive Medicine, Ohio State University, Columbus 43210, USA.
For more information and interview management:
Gemma Garcia Farreras This email address is being protected from spambots. You need JavaScript enabled to view it.
Claudia Mesegué This email address is being protected from spambots. You need JavaScript enabled to view it.
93.415.37.05
Besana Group spa, la Società specialista europea della frutta secca, compie 94 anni e festeggia con un evento internazionale nella bella cornice dello stabilimento "ad alta tecnologia aggiunta" di San Gennaro Vesuviano (NA).
Clicca qui per accedere al fotoreportage.

Il mercato della frutta secca sta vivendo un momento particolarmente positivo in tutto il Vecchio continente, almeno dal punto di vista dei consumi, grazie a una riscoperta in chiave nutrizionale di questi prodotti, che ha portato a un ampliamento del target dei consumatori e, anche, delle occasioni di consumo. Facile da consumare, infatti, la frutta secca piace anche ai più giovani, è considerata lo snack salutare per eccellenza e si presta a mix innovativi.
In questo vivace contesto, il Gruppo Besana gioca un ruolo di primo piano con una presenza di rilievo su tutti i principali mercati e segmenti.
Clicca qui per accedere al fotoreportage.


Pino Calcagni.
I dati presentati dal presidente, Pino Calcagni, evidenziano un percorso virtuoso partito 94 anni fa, nel lontano 1921, con la grande intuizione imprenditoriale dei fratelli Emilio e Vincenzo Besana. Da subito l'azienda manifesta la propria vocazione internazionale attivando, già nel 1928, forniture e collaborazioni in Germania, Regno Unito, Svezia e nel Nord America, cui fanno seguito, negli anni, gli stretti rapporti di collaborazione e partnership con le più importanti catene distributive europee quali Ica (1928), Mark & Spencer (1934), Colruyt e Delhaize (1970), Tesco.
E proprio la vocazione internazionale porta nel 1988 alla nascita di Besana UK, una società per la distribuzione di prodotti in Gran Bretagna, e a importanti joint venture in molti altri Paesi.
Con lo sviluppo dei mercati di destinazione e le collaborazioni sempre più strette con i retailer e con l'industria dolciaria, il volume di produzione passa dalle 1.500 tonnellate lavorate nel 1935 alle 24.000 del 2014, in 35 impianti di confezionamento. Vale a dire, più di 100 milioni di piccole confezioni prodotte all'anno. Un primato che si consolida con le recenti importanti forniture di prodotti Top Quality per il Gruppo Wallmart sul mercato cinese.
Clicca qui per accedere al fotoreportage.


Riccardo Calcagni.
A Riccardo Calcagni, amministratore delegato del Gruppo, il compito di presentare i "numeri di successo" dell'azienda campana. Con i suoi 400 dipendenti e un indotto di 2.500 persone, in Italia e all'estero, l'impatto sociale di Besana Group in termini di occupazione è decisamente importante. Come importante risulta il fatturato del Gruppo: in quindici anni è cresciuto del 478%, raggiungendo nel 2014 ben 171 milioni di euro (+19% rispetto al 2013). Ma il Gruppo non riposa sugli allori: ogni anno, infatti, reinveste ingenti somme di capitale in qualità, tecnologie innovative, nuovi prodotti, logistica, ambiente e sicurezza alimentare. Negli ultimi sette anni sono stati investiti oltre 25 milioni di euro: 7,5 milioni solo nel 2014.
Clicca qui per accedere al fotoreportage.


La visita allo stabilimento.
E proprio i nuovi investimenti sono stati i protagonisti del "Factory Tour" organizzato all'interno dello stabilimento di San Gennaro Vesuviano: oltre 36.500 metri quadrati coperti provvisti delle più avanzate tecnologie per la lavorazione della frutta secca. Qui i visitatori hanno potuto osservare da vicino le new entry ad alto livello tecnologico, a cominciare dal pastorizzatore Napasol 2 ad alta capacità, passando per le linee ad alta tecnologia e precisione per la miscelazione e il confezionamento di misti in monoporzione e gli impianti per il confezionamento delle Smarties, fino agli impianti per la selezione delle materie prime che consentono un elevatissimo livello di qualità, gli impianti di tostatura e la nuova area "Nut Free" attualmente dedicata ai pinoli.
Ma Riccardo Calcagni ha citato anche i nuovi magazzini refrigerati presso l'Interporto campano, lo stabilimento inglese di Ipswich e gli impianti ad alta tecnologia per la lavorazione del cioccolato della Vittoria Chocolatery.
Il Gruppo dispone di tutte le principali certificazioni di Qualità (Ifs, Brc, Soil, Biologica, Halal, Kosher, Fair Trade) e ha avviato la procedura per ottenere la certificazione per la lavorazione di cioccolato UTZ nello stabilimento di Vittoria Chocolatery.
Clicca qui per accedere al fotoreportage.


Al via i festeggiamenti!
Besana Group partecipa a Fruit Logistica 2015, nello spazio collettivo Italy, in Hall 2.2, Stand A-02.

Contatti:

Besana spa
Via Ferrovia, 210
80040 S. Gennaro Vesuviano (NA)
Tel.: (+39) 081 8659317
Fax: (+39) 081 8657651
Email: This email address is being protected from spambots. You need JavaScript enabled to view it.
Web: www.besanaworld.com
Data di pubblicazione: 26/01/2015
Autore: This email address is being protected from spambots. You need JavaScript enabled to view it.
Copyright: www.freshplaza.it